There is indeed a great mobile war brewing, but I'm not referring to the Samsung (+Google) vs. Apple global litigation mess we're all tired of hearing about. No, what I speak of is something much grander that spans…well… everything.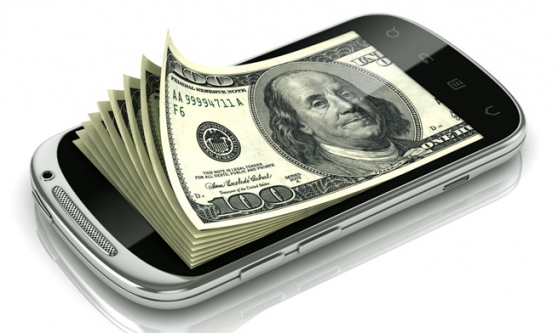 The War For Virtual Content Distribution
This is a war that was spearheaded by the introduction of iTunes, the first major platform to bring controlled content distribution to mobile in its current incarnation. Since then, we have seen every major player swallow up everything in their path and form unlikely allegiances in an effort to control content distribution.
Creation, Distribution & Hardware
In the virtual goods supply chain, there are three ways to make money. Create content, distribute it or sell the hardware to consume it. Below, I've made a chart showing how vertically integrated the tech giants are in each of the major content categories.
C = Creation | D = Distribution | H = Hardware
Bold text = Profitable
| | | | | | | | | |
| --- | --- | --- | --- | --- | --- | --- | --- | --- |
| | OS | Apps | Music | Movies | Books | TV | Games | Education |
| Apple* | CH | CDH | DH | cDH | DH | cDH | DH | DH |
| Google | CDH | CDH | DH | DH | DH | DH | DH | DH |
| Amazon** |  h |  h | Dh | Dh | Dh | Dh |  h | Dh |
| Microsoft | CD | CD | D | D | D | D | D | D |
| Sony |  H | H | CH | CH | DH | CH | CDH | H |
| RIM | CH | DH | H | H | H | H | H | H |
| Samsung & Co*** |  H | H | H | H | H | H | H | H |
| Nintendo | | | | | | | CDH | |
*Note the small "c" for Apple. This is because of their partial stake in Disney/Pixar.
**The reason why I listed "h" for Amazon's categories is because Amazon really only exists in the USA. They exert almost no influence overseas. The same can be said of the Amazon store, however, the control a significant enough marketshare to be included in the list.
***Samsung & Co = Samsung, LG, HP, Dell, HTC, Acer, etc. They are purely a hardware makers with no vertical content integration.
One look at this chart and you see why Apple is such a threat to everyone. Literally, everyone.
Apple is not only the only CDH company, it's the only company profiting at all three levels.
Google (+Motorola) is a cDH company.
Amazon is a DH companies, but basically only exists in the US.
Microsoft is a CD company, but may become a CDH if their Surface tablets are any indication of their future plans. In addition, Microsoft may also become a major CD in the mobile gaming area with the introduction of Windows Phone 8.
Sony started as an H company, but is in fact, a CH company, except in the gaming and eBook categories where it is a CDH. With the recent re-acquisition of Sony Ericsson, this should change.
RIM is a CH company, but, due to their closed platform nature and small marketshare, most of their profits come from hardware sales and enterprise services.
Samsung & other Android hardware makers, with the notable exception of Sony, do not have any stake in content creation or distribution. Within this category, only Samsung is profitable at the moment.
Nintendo is a CDH, but is highly specialized in gaming. The demise of Nintendo has been predicted for ages, but they have consistently remained the most profitable company in the category. This may, however, finally change as Apple is making huge inroads into the category and Microsoft is poised to become a major player with Windows Phone 8.
Games & Education
Everyone else is still playing catch-up to Apple. While Microsoft and Google are investing heavily into their respective OS's ecosystems with a focus on matching Apple in apps, music, movies, TV and books,  Apple has already moved past that stage and is focused almost entirely on games and education. This cannot be demonstrated more clearly than Apple's concentrated marketing campaigns pitching the iPod Touch as a gaming device and the iPad as an educational one. This is bad news for Google and Microsoft, but awesome news for students and gamers.
There is a reason why games cost $50 to $80 and textbooks cost $100 to $500. It is because the supply chain is extremely vertically integrated. In the case of games, if you want a particular game, you often have to own a specific piece of hardware and buy from the marketplace associated to that. There is no marketplace competition because you only have one choice. Similarly, in the case of educational textbooks, you must buy a specific textbook, often only available from your local university bookstore.
Now look at the prices of games on the App Store. Even quality RPG and MMORPG games are going for free up to $15. Remember how much Tetris cost on the gameboy? It was something like $30 to $40 dollars at the time. The best example of this is probably The Sims. The Playstation equivalent of what's currently on the App Store would have easily gone for $40 a few years ago. Now it's available for free or a few bucks.
Similarly, the price of educational apps, with far greater development costs (to implement the interactive elements) than many textbooks, that are proven to be more effective in teaching, are going for a few bucks.
My Experience
I own a Galaxy Nexus and 4th generation iPod Touch. Why do I keep my iPod Touch when I have a Galaxy Nexus? Because the Android App market pales in comparison for content creation and educational apps. I've used dozens of language learning apps and played dozens of games on my iPod Touch. I've also played vector drawing tools and audio tools like Garageband. Nothing comparable exists on Google Play. That being said, I don't see myself buying another Android phone in the future. My next phone will either be an iPhone or….
Windows Phone 8
Is going to be big. In particular, for gaming. Android will remain the go to OS for mid to budget phones, but Windows Phone 8 will become the flagship model OS for most of the major manufacturers. With the exception of Samsung and the Chinese manufacturers, nobody is really making money off of hardware with Android. In addition, with the threat of a lawsuit similar to the Samsung vs. Apple global war, most, if not all the major manufacturers must be considering a serious investment into Windows Phone 8, except, maybe…
Sony + Google?
With the increasing pressure from Microsoft XBOX and Apple, the speculation of this partnership has some merit. In some ways Google and Sony are complementary companies. Google is weak in books and in particular, gaming, while Sony doesn't have any stake in the OS game. In many ways, Sony is actually a greater proponent of Android than the Google owned Motorola. The Google TV is made by Sony and the Sony has already introduced the Playstation Store and App within Android.  However, the risk would be entirely on Sony to integrate their product offerings. I'd love to see this happen, but I just don't see any way it could work.
Stay tuned for part 2 – Mobile Monetization: Social & Services