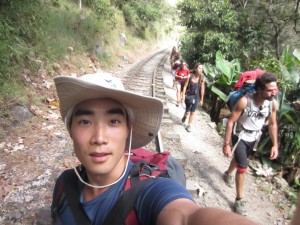 Let's say you have $2500 to spend on a vacation. Would you prefer a week in Hawaii or a month in South America (SA). Hawaii offers luxury, comfort, relaxation, cocktails and world class tourism. But, let's take a look at another often overlooked travel option: backpacking.
For $2500, in SA you could travel across 3+ different countries, visit landscapes ranging from world class beaches, salt flats, the Amazon and Andes, and have the adventure of a lifetime. I don't want to go into specific itineraries because there are already many available online. Instead, I'm going to give you rough estimates for the cost of backpacking anywhere in South America. My goal is to convince you that there are more adventurous, fulfilling ways to travel than resort packages.
How much would it cost, on average, to spend a day in South America?
$35
Here are my calculations:
Daily Costs
Cheap two course meal: $1-5 in poorer countries (Bolivia, Ecuador, Peru, etc.), $3-8 dollars in richer countries (Argentina, Brazil, Chile)
Alcohol: $1-2/bottle of domestic beer
One night dorm room stay at a hostel: $4 to $8 in poorer countries, $5 to 13 dollars in richer countries
Local Bus: $.25 to $1 for poor countries, $1 to 2 for richer
So, what is the typical cost of a day in South America?
2.5 meals = $10
Snacks, fruits and a bottled water = $3
2 beers = $3
One night stay in a hostel = $7
Two local bus rides = $1.5
Daily average of excursions and entrance fees: $7
Other costs averaged: $3.5
Total Cost of a full day of traveling: ~$35/day
This is a very reasonable number and can easily be lower depending on your threshold for cheaper (riskier) food and accommodations. If you travel with equally economical people, this cost will drop even lower.
Of course, you can't skip the other large one-time expenses.
One-time Costs
Return flight from NA to SA: $1000 or less on a decent deal
Travel clothes & shoes: $0 to x. You could potentially take the clothes you already have or you could buy more specialized travel attire.
50L backpack: $120
Visas: Most countries are free for Canadians (the notable exception being Brazil). Like most other places in the world, visas are expensive for Americans.
Travel Insurance: $60 a month for Canadians. Most Americans I've met seem to forgo it altogether.
Treks and other multi-day adventures: $200 for 4-5 day treks to Machu Picchu. $100 to $300 for similar treks across SA.
Inter-city bus (<5 hours): $5-10 for poorer countries, $7 to 15 for richer
Intra-country flight (local airline purchased locally): $40 to $100
Inter-country flight (local airline purchased locally): $100 to $250
If you've never considered backpacking before, I hope this helped you get a sense of what is possible with your money. Keep in mind, for the vast majority of popular destinations, there is a huge support network of hostels that will be able to provide advice and guidance for those who seek it. Backpacking is not what it used to be 20 years ago. You're not venturing into the wilderness with a machete 3 km from the nearest person that speaks English. In fact, if you stick to the hostel route, you'll be speaking nothing but English to other travelers from 1st world countries and rarely interact with the locals. You'll inevitably bump into other travelers with a similar itinerary and pair up. I have traveled with dozens of people across multiple countries that I met while socializing in hostels. Backpacking within the hostel network is almost laughably safe and comfortable. At the established hostels you almost always get lockers, toilet paper, free wifi, TV, individual showers and a secured front entrance. Not to mention the bar, kitchen, pool table and commons room.
So, I ask you again. Hawaii or South America?